Domestic and family violence is a pandemic in Australia. On average one woman a week is killed in Australia by an intimate partner or former partner. It is tragic and unacceptable. On top of this are the number who suffer physical, emotional, or spiritual abuse, or who are coerced and controlled by an intimate partner.
At the Adelaide Synod in October 2021, a motion was carried acknowledging the findings of the National Anglican Church Family Violence Research Project and adopting the Ten Commitments for Prevention and Response to Domestic and Family Violence in the Anglican Church of Australia. Detailed reports of the research, methodology and results can be found on the General Synod website (see link below). The Commitments were endorsed by the General Synod Standing Committee in August 2021. The significant research project, the first of its kind in Australia, was undertaken by the National Church Life Survey researchers in conjunction with Charles Sturt University. The research found that among those surveyed the lifetime occurrence of intimate family violence was the same or higher among Anglicans as among the general population.
Download the Ten Commitments for Prevention and Response to Domestic and Family Violence
As church leaders, we are called to make changes to improve this situation in the Church and the community. The adoption of the Ten Commitments by the Diocese of Adelaide will assist our Anglican Church communities to be places where respect for all is taught and lived; where it is clear that abuse of any kind including control and coercion has no place; and where people who have suffered intimate partner violence can find help and support.
The Ten Commitments provide a foundation to guide work in making the church a place where women, men and children are safe; where violence is prevented, where the wounded are healed and justice prevails, so that God's grace can flow into the lives of all, insofar as we can achieve such outcomes.
The Commitments focus on prevention in addition to training ministers and improving care for those who have experienced abuse. In the long term, preventing abuse is better than only reacting once abuse has happened and people are suffering.
The Ten Commitments were produced from the research as a guideline for best practice to support victim-survivors of domestic and family violence in Anglican communities. The Commitments are drawn from research into best practice models and discussion, having had input from Dioceses, clergy, lay people and victim-survivors. In SA, the Domestic and Family Violence Working Group of the Anglican Province of South Australia has led this work.
The Commitments outline the approach at national, Diocesan, and local levels and provide:
Statements and explanations of each commitment.
Strategies to enable each commitment.
Ideas and ways in which we can build on our strengths as a church and work together to achieve positive outcomes.
MATE – train the trainer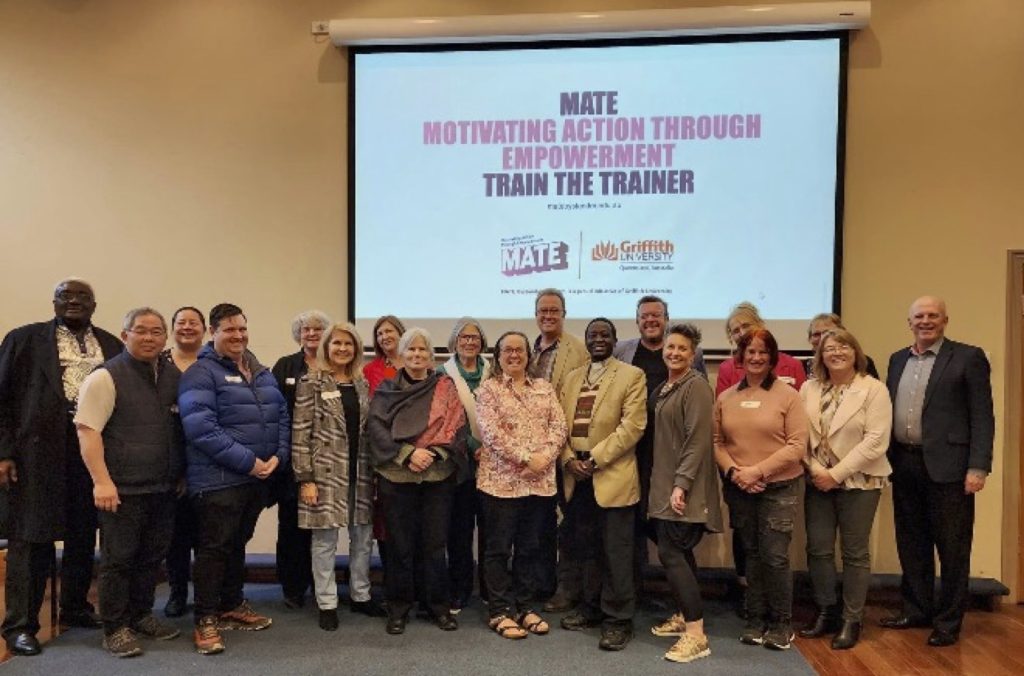 In acting on the Adelaide Synod 2021 motion, Diocesan Council is committed to a process of education, policy making and lament in accordance with the Ten Commitments. The education process began with initial training sessions with Women's Safety Services SA in 2020 and 2021, targeting clergy. A further Motivating Action Through Empowerment (MATE) 'train the trainer' session was held in September 2022 involving 15 people from the South Australian Province. Graduates from this session are now equipped to train people in their own ministry contexts. The MATE Bystander training program is an effective prevention strategy teaching active bystander approaches to gender-based violence. Participants in this and future training will gain insight into how to send messages of accountability to those who enact domestic and family violence. More information on this and other training and Diocesan initiatives on this issue are to follow.
Further information and resources on this issue, made available by the Survivor Advocate, Sharon Lockwood, can be found on the Anglican Diocese of Adelaide website link below. Posters displaying the Ten Commitments have been provided to each Anglican site for placing on parish noticeboards. Postcards have also been made available and should your parish require more than that provided, please contact support@adelaideanglicans.com
Related links
Domestic & Family Violence anglican.org.au/our-work/family-violence/
General Synod resolutions https://anglican.org.au/the-general-synod/search-resolutions-of-gs-sessions/
Survivor Advocate and other related contacts https://adelaideanglicans.com/contact-support/report-abuse/
MATE Bystander training https://matebystander.edu.au
Resources
The Domestic and Family Violence Working Group has provided the following suggested resources available to assist parishes in their efforts to combat this problem
Common Grace has a 16 Days of Prayer against Domestic and Family Violence campaign and website resources for daily reflections and prayer as well as these prayers.
These liturgical resources can also be used to guide the development of services presented during the 16 Days of Activism. The first is from South Africa and the second comes from New Zealand. 
SAFER is a resource to assist Australian churches to understand and respond to domestic and family violence.
Our Watch is a national leader in the prevention of violence against women and their children in Australia, and they provide a range of resources to educate the community about these issues – these videos "It's Time to Act on Our Watch" and Change the Story explain more about their work and what we can all do to contribute to meaningful change. For parishes that want to do more active primary prevention work on this issue there are great resources available to support this via Our Watch, such as this. 
MensLine Australia provide 24 hour a day 7 days a week phone and online counselling services and resources for men who are concerned about their behaviour escalating to violence.
1800 Respect provide phone and online counselling services 24 hour a day 7 days a week for anyone affected by domestic and family violence and sexual violence and can provide information and support to anyone providing assistance for people experiencing domestic, family and sexual violence.